MaxDermal Graft
Two strategies for a flawless result. Ideal for those with advanced hair loss.
MaxDermal Graft combines a FUE or FUT hair transplant with Dermal Lens technology to complete an incredible and comprehensive transformation in a fraction of the time.
Natural-Looking Hairline
Freedom to slick your hair back or enjoy the wind in your hair.
Mega Transformation
Restore a larger area at a higher density than you can with just transplants alone.
Speedy Results
Get to your full-restored ultimate look in a fraction of the time.
Hair Freedom
Take advantage of your extra density to enjoy any hairstyle and change it at any time.
No Linear Scar
Choose the FUE option for a minimally invasive procedure and no linear scar.
Double Benefits
Get the advantage of surgical and non-surgical techniques.
Clinical Guarantee
HRI's Hair Transplant procedures are backed by our clinical guarantee.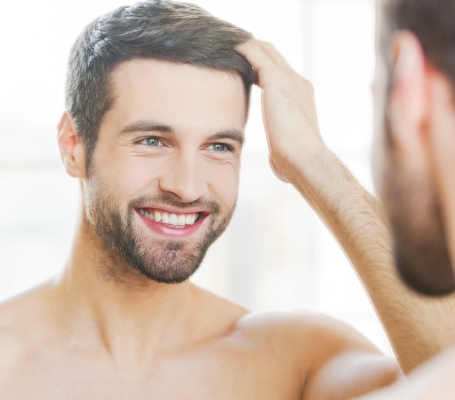 Learn more about FUE
Follicular Unit Extraction (FUE), also known as "Neograft", is a minimally invasive surgical procedure. Its advantage over traditional hair transplant methods are that it is "stealth" and doesn't leave a linear scar. During this one-day, pain-free, outpatient procedure, healthy, permanent hair follicles are individually transplanted them to recreate a natural-looking hairline.
Patients must be medically cleared for this surgical procedure. The healing is fast and the results are permanent.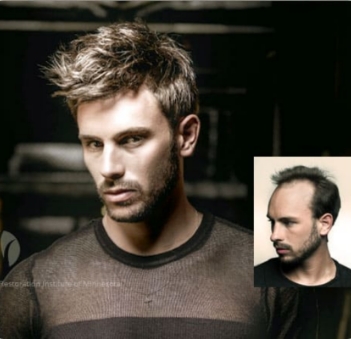 Learn More About Dermal Lens
After your hair transplants, one of our licensed cosmetologist Hair Restoration Specialists will customize a Dermal Lens hair system to fill in the bald or thinning areas behind the front hairline. Dermal Lens is a synthetic scalp-like membrane with real human hair injected through it, one hair at a time. The Lens is then medically bonded to the scalp where it stays on 24- hours a day 7-days a week.
Your Hair Restoration Specialist will examine your old pictures, existing hair, and stated goals to customize a hair system that matches your exact color, texture, curl pattern, and density. This new hair is then blended seamlessly with your existing and transplanted hair. The service ends with a haircut and style to leave you looking 100%.