Female Hair Loss Causes And Treatment
Hair Restoration Institute Of Minnesota
The causes of hair loss in men and women can generally be the same. However, stress, autoimmune and chemical damage—not genetics—play a larger role in baldness in women.
The other main difference in male baldness and female baldness is the pattern. The male traditionally loses hair beginning at the hairline and receding along the top of the head to the back of the scalp, leaving hair on the sides and very back of the head.
Females, on the other hand, are rarely bald like men. Baldness in women is actually more of a hair thinning, especially around the forehead and scalp. Other women can experience hair loss in various places around the head, thus making it difficult to spot female baldness.
Because estrogen blocks the hormone that causes hair loss, the onset of menopause is when 37% of women experience an increase in thinning hair. In fact, 80- and 90-year-old women often see hair growth stop completely.
Emotional Impact On Women With Female Pattern Thinning And Hair Loss
Unfortunately, the impact of female hair loss is more significant in women than in men. Because hair loss in men is more common, it is socially accepted—even expected—to see balding men. It's different with women and baldness.
Women typically place a greater amount of pride on their appearance—especially their hair style. Studies have shown that women view their hair loss as a devastating loss. Their self-esteem is lower, thus affecting personal relationships.
That's because much of a woman's social acceptance is, in theory, tied to her hair. Unlike men, who can turn to many others who share in his hair loss experience, women feel themselves becoming outcasts. Women often feel that female hair loss is abnormal. Many never find anyone to discuss the issue with, and, therefore, they suffer.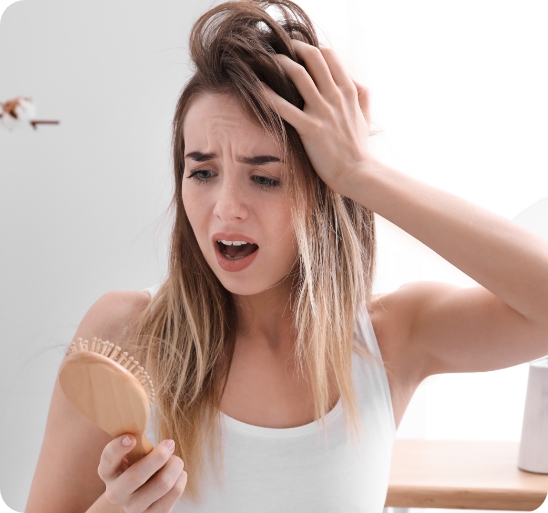 Taking Control Of Female Hair Loss
Why restrict your lifestyle a day longer? At Hair Restoration Institute of Minnesota, we provide quality, affordable women's hair restoration and restoration while providing care, compassion and confidentiality to each and every client.
Be yourself, again. Experience the HRI difference. Our exclusive and totally undetectable women's hair restoration technology allows you to regain your sense of self-confidence, and self-esteem.