Women's Hair Replacement Photo Gallery
At HRI of Minnesota, we provide women suffering the devastating effects of female hair loss value and service that most hair restoration companies in the Minneapolis area cannot. Our proven, client-oriented approach emphasizes privacy, discretion, one-on-one individualized attention, professional styling, undetectable results, and a totally natural look and feel.
Read what our clients say, then contact us. Our courteous, professional staff will be happy to answer your hair loss and hair replacement questions.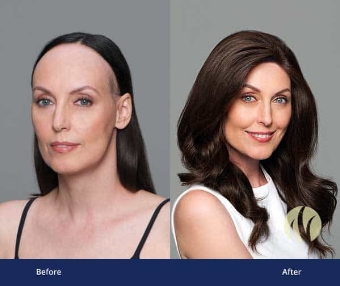 HRI Dermal Lens Effect hair restoration was the perfect solution for me
"Before I got my HRI Dermal Lens Effect hair restoration, I went to a dermatologist looking for answers but found none. I bought a wig but didn't like the way it looked and felt. Today I can say without hesitation HRI Dermal Lens Effect hair restoration was the perfect solution for me."
-Jennifer S., Minneapolis, Minnesota
I found the entire staff to be professional, sensitive, caring, and masters of their skills
"At Hair Restoration Institute of Minnesota, I found the entire staff to be professional, sensitive, caring, and masters of their skills. I felt immediately at ease, right from the first phone call, through today. Thank you, Vern, for not only giving me my hair back, but also giving me a real sense of happiness and satisfaction every morning when I look in the mirror."
-Angela H., Bloomington, Minnesota